Lymph Drainage
Lymph drainage is an effective method of massage that encourages the natural circulation of the lymph through the body and helps to create and maintain a balance between blood flow and lymphatic system.
Besides its well-known and evidence-based benefit for people with lymphedema and post surgeries the method has also wide spread application for lymphatic drainage for detoxifying the body, skin firming and cellulite prevention.
The importance of lymphatic drainage
Lymphatic massage with our lymphatic drainage device will give you a completely painless, non-invasive and effective treatment by draining excess lymph.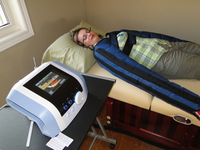 The lymphatic system is responsible for removing interstitial fluid from tissues. It absorbs and transports fatty acids and fats to the circulatory system and transports antigen-presenting cells to the lymph nodes where an immune response is stimulated.
Medical
Chronic oedemas
Venous insufficiency
Posttraumatic care
Arthrosis
Carpal Tunnel Syndrome
Diabetic angiopathy
Gout
Ischemic disease of lower limbs
Algodistrophic Syndrome
Heavy legs syndrome
and much more